Welcome to The Royal Norfolk & Suffolk Yacht Club

Our fully serviced marina and clubhouse.
All visitors by sea qualify as temporary members and can enjoy the following facilities.
Facilities available:
Our fully serviced Marina facilities:
24 hour toilets, changing rooms, showers and laundry facilities – please contact the club if arriving after 10pm
Self-service laundry service – tokens available from the Club reception during office hours
Free WiFi within the Marina and Clubhouse (please note that we cannot guarantee Marina WiFi will be accessible)
Fuel and pump-out
Free electricity included in mooring fee
Our Clubhouse facilities:
Well stocked bar including real ales and specially selected wine list
Bar snacks available during service times
Fabulous traditional restaurant
Twin and single bedrooms – please enquire for more details
Entering the Harbour
Vessels must contact Lowestoft Harbour on VHF Channel 14 for permission to

ENTER OR LEAVE

the harbour.

Please contact the Royal Norfolk and Suffolk Yacht Club on VHF Channel 80 should you wish to enter the Marina and follow berthing instructions
The entrance to Lowestoft Harbour is very visible with the entrance lights mounted on very prominent white light houses on either side of the entrance. Please call Lowestoft Harbour on Channel 14 for permission to enter the harbour when you have the lights or light houses in sight and inform them you are bound for the RN&SYC marina. Entry is controlled by International Traffic Signals.


Also call the club on channel 80 or telephone 01502 566726 for instructions on berthing. If out of hours berth in the first available space on the Northern most pontoon.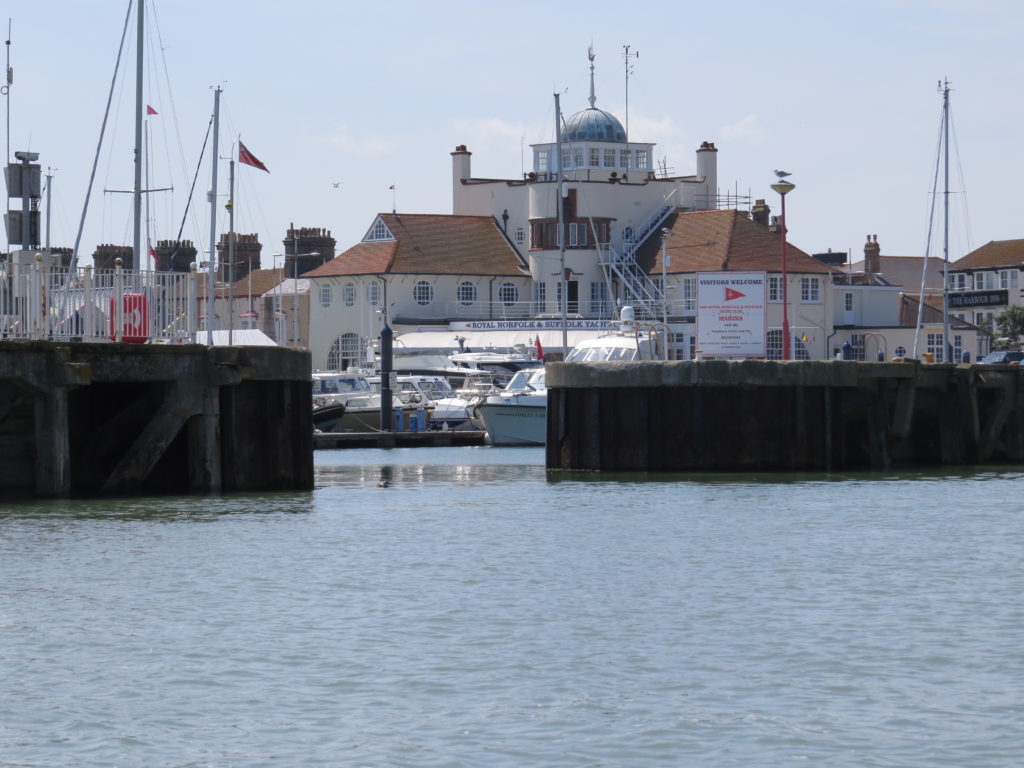 Once inside the main harbour entrance head for the RN&SYC marina.
The entrance is in the main channel leading to the road bridge and is on the Port hand side.
Inside our marina berth on instruction from the bosun or on the first available berth on the Northern most pontoon. As in picture. You may have to raft out.
Further information regarding tides and mooring fees can be found in the Marina section of our main menu
Clubhouse Facilities
Marina Facilities